Pink is the color of the moment, and this is not just for women. The pink rugs are the perfect pieces to compose, from a more delicate decoration to a very cool and young. You can place them in bedrooms and living rooms, helping to bring touches of color, be lighter or more vibrant.
Topics
1 Where to Buy: Store Tips and Prices
2 Photos and Ideas of Roses Rugs

2.1 Pink Baby
2.2 Pink Pink
2.3 Hairy / Shaggy
2.4 Crochet
2.5 For Double Room
Where to Buy: Store Tips and Prices
There are many models of pink rugs, you can choose from the smoothest, textured and without prints, even those who have everything. For example, a matte pink rug you find for R $ 72.81, in Casa Brasil Rugs.
Already a carpet with prints, perfect for rooms for babies or children, leaves for R $ 140,56, in Grão de Gente.
Photos and Ideas of Roses Rugs
Pink rugs can be in lighter shades or the more vibrant ones, such as pink, and the styles they bring to the environment depend on the decor around. In addition, you can still choose models with different patterns and textures, such as doormats.
Pink Baby
This rose shade is perfect for decorating more delicate and charming surroundings, such as the nursery, for example. This is because it gives a touch of color, but getting very discreet, only helping to complement the decor.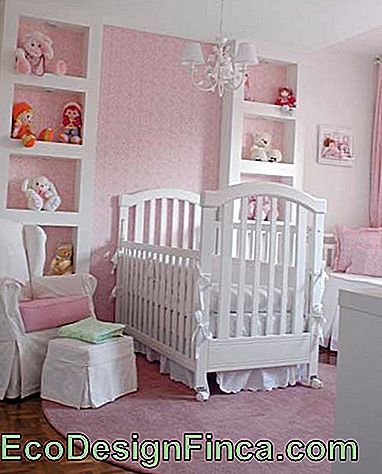 No mistake: a pink and white decoration, delicate and well clean!
Round rugs help to delineate a space, such as a space for children to play, for example

Rugs in children's and infants' rooms are important for children not to play directly on the floor, especially if the floor is colder

You can even choose models with designs and even textures, especially if you are looking for a more delicate decoration!

In addition to the delicate rooms, the light pink carpet, mainly the smooth ones, combined with other colors, like gray, creates a very modern environment!

The pink baby carpet can also be used in more modern environments, for this, prefer smooth models (without drawings, for example)!

The patterned wall and the bed with wooden frames helped to give a more modern touch to the matte light pink rug
Pink
The pink pink rugs are perfect for those looking for a more glamorous and fashionable decoration. You can bet on larger models (if you want more attention) or smaller versions (just to give a very distinctive touch of color).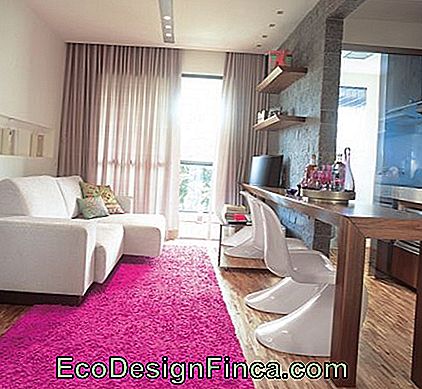 The furniture in neutral tones, such as white and brown, helped to highlight the pink pink carpet
Pink carpets bring even more fashion style to the environment!

Even with a decoration in shades of purple and pink, the carpet helps to complement, being very discreet

This carpet model can help you decorate more chic boho!

In addition to the smooth versions, you can choose models with Persian or Indian rug designs, for example

Even with more alternative style, the rug helped to compose a young and modern bedroom decor
Hairy / Feathered
Hairy carpets can have two functions: helping to compose a fashion environment or give a touch of comfort to the space.
In lighter shades and smaller, more traditional shapes (such as rectangular or round) are perfect for a more charming look

Light-colored rugs can also be used in a teenage room. Perfect for those looking to give a modern touch to the decor!

The fuzzy models with larger hairs are perfect for those looking to bring the feeling of comfort even more

You can bet on different sizes of carpets, like this one at heart

There is nothing more fashionable and glamorous than a pink pink carpet!
De Crochê
The crocheted rugs give an air of artisanal and at the same time delicacy to its decoration. You can bet on the most different sizes and formats, for example, the rounds are perfect to help make up the look of that corner, whether in your room or in any other environment.
To bring a different style, you can choose models with different colors, even in various shades of pink!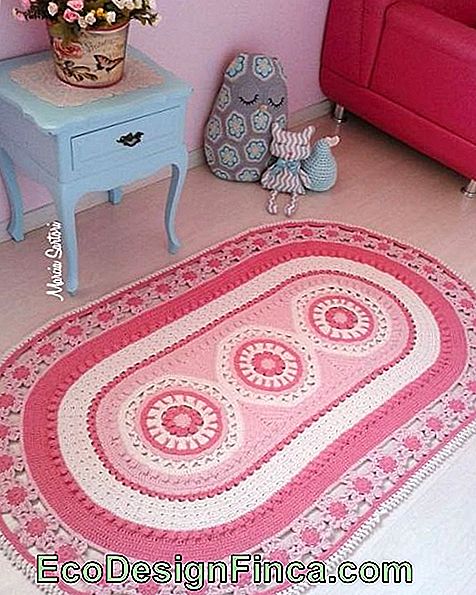 Pink crochet rugs look discreet and still bring more detail to your décor
There are the most different models of crochet that can create the most different formats and styles of rug
For children's and teens' bedrooms, you can bet on models of rugs in format and drawing of animals! Create a fun look!
For Double Room
The double rooms can also get pink rugs without getting too "feminine" air. It can be perfect for both a more delicate decor and a more modern ambiance.
The carpet has designs and a very discreet texture that depends on the lighting, so help to create a nice décor!
To give a very young touch, you can bet on smooth models and traditional formats

The light shades of pink are also perfect for decorating more romantic and charming surroundings

The pretty rustic model rug has created a perfect blend with the fashionable bedroom decor

The pink pink carpet can be perfect to help you create a more youthful and even more rustic decor!

The carpet designs brought chic boho style to the bedroom

The pink carpet can also be used in a more relaxed beach house decor, for example, blending with other colors such as green!
The pink is a very flexible color, combining with any environment and can adapt according to your style. Now just choose the model and you're done!
Video Editorial: 15 DIY Projects That Will Make Your House Look Amazing