Christmas is certainly one of the most important holidays and confratenizations in the world, so it is so common to use Christmas ornaments to the facades of the house, windows and doors in order to receive the good old Santa Claus! When it comes to decoration, the traditional pines filled with gifts, garlands, Christmas balls, candles, flasher, predominance of green and red and even special balloons are present at this festive time!
These and other items together and mixed have great importance in the composition of any environment of the house. But if you are in doubt as to how to decorate and guarantee harmony among all, here are some details before putting ideas into practice. Come on?
Frozen or tropical Christmas: pop culture is one of the responsible for the association of Christmas decoration with socks, sweaters, pines and lots of snow, typical of European, Asian and North American countries. In Brazil, for example, we know that this freezing environment is almost impossible, but there are several ways to lower the temperature here: snowflakes in the air decoration, hanging stockings, soft textured rugs, etc. However, another way forward is to bring such elements and associate them with our climate. It is worth betting on the explosion of colors, good humor, fresh and natural character;
Color chart: impossible to err with green and red. Although they are directly associated with the date, they are complementary opposites in the chromatic circle, resulting in a great harmony between both. Maybe that's why this union became so impactful this time of year! If you prefer something more sophisticated, delicate, minimalist: off white and details in gold, silver and tones in candy color They are welcome!;
Minimal Xmas: a trend that will remain for the coming times is minimalism with its neutrality, functional furniture and punctual ornaments. Do not forget that less is more right now! As Christmas ornaments often bring volume and decoy with their giant trees and lights scattered around every corner, adapting to style brings surprising results to the right degree !;
Messages of affection: thanks, wishes and congratulations are common at this time of year, so have you thought about stamping them in strategic areas? Ah, there are several phrases available on the internet with lettering clean or find them ready at specialty party shops !;
Check out in our special gallery below, over 65 sensational references of Christmas ornaments and get the inspiration you need here:
Christmas tree decorations
Picture 1 - Christmas ornaments: play with the traditional elements and erase!
Mainly speaking of the green pine branches of Christmas trees, how about reinventing them in other formats and combinations?
Picture 2 - Create a distinctive effect with paper balls!
Is there anything better than welcoming the guests with a colorful, vibrant and fun décor?
Picture 3 - Ho, ho, ho: the most lively time of the year is coming!
Metallic balloons are great allies in any party, from the infantile to the Christmas celebrations! Use and abuse!
Picture 4 - Christmas ornaments: themed pictures give a plus in any environment!
One more example that you do not have to invest in expensive materials to produce creative and funky decorative objects!
Picture 5 - Share the best moments of the year through a photo mural!
Picture 6 - Christmas ornaments: for all to enter with the right foot!
After all, it is always good to be warned: it is a festive season, to celebrate the achievements and the new family ties!
Picture 7 - Chalkboard: a trend that has come to stay!
Messages or illustrations can be applied to smooth surfaces such as walls or even doors. You decide!
Picture 8 - Christmas decorations easy to make.
Outline your artistic side and capriche the decor in every corner of the house! Here, the necessary items are only: strips of paperboard, glue, string and tape.
Picture 9 - Christmas decoration for houses.
Red and green are often too flashy, so bribe in the classic, elegant style: it never goes out of style!
Picture 10 - Simple and cheap Christmas decoration.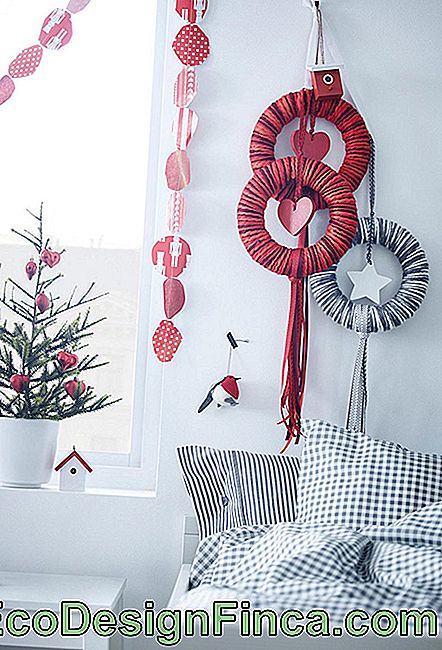 In the area of ​​interior design, what leaves a harmonic proposal is the type of solution and combination chosen. Have you ever thought about getting hit with just one tree
petit,
paper curtains and garlands produced by hand?
Image 11 - Craft Christmas ornaments.
Chains with Christmas elements: wool pompoms, socks, ice flakes or letters on special paper, balls. Have you chosen your favorite model yet? In doubt, elect everyone!
Picture 12 - Christmas ornaments: endless creativity!
Before throwing out the gift bows, encourage and surprise the guests by gluing them to the wall of the dining room. How not to love this idea?
Picture 13 - Points of light highlight any space!
Do not limit yourself to include them only in the trees, balconies, bottles: glued to the wall also have their charm!
Picture 14 - Christmas decoration: do it yourself!
Here's how easy it is to decorate the house in an effective way: branches of artificial leaves and Christmas balls surround the rooms from one room to another.
Picture 15 - Christmas ornaments: inspire yourself!
You can find the themed message boards in specialized party shops or on the internet!
Image 16 - Christmas show.
The idea of ​​creating poles with branches of leaves is linked to a minimalist décor and even more economical. But that does not mean they are less charming, quite the opposite!
Christmas ornaments for tables
Image 17 - Christmas arrangements for table with pine cones.
Picture 18 - Back of Christmas chair.
Impossible to escape the details in patterns of red,
off white
and green when the end of the year approaches!
Image 19 - Christmas table settings.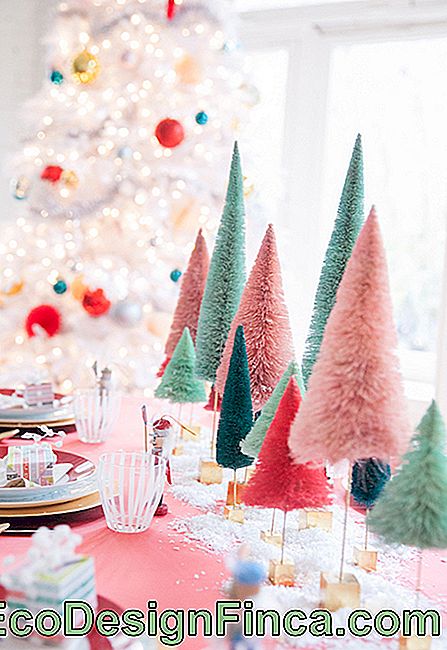 Another great tip to spruce dinner is to think of scenarios linked to the theme and, of course, that trees have their place guaranteed!
Image 20 - Christmas ornaments left over? It never hurts!
Picture 21 - Christmas arrangements with artificial flowers.
Among the advantages are: reusable, last longer, do not require positioning near the light of the sun.
Picture 22 - Christmas ornaments for table easy to make.
When working with decorations already established in tradition, there are several paths to follow and within them are the shapes, colors, styles and imagination!
Picture 23 - Ornaments with table candles.
The most charming thing about this time is to overcome the barriers and let creativity flow: everything is allowed and the end result is incredible! In that case, mayonnaise glass jars accommodate candles, characteristic fruits, or whatever branches you prefer!
Picture 24 - Table decorated with fruits.
Pomegranate, cherry and acerola are just some of the delicious berries that have the shape that resemble the Christmas balls. Or would they be the other way around?
Picture 25 - Close for the Christmas centerpieces!
Picture 26 - Donate love, be love, wherever you go!
The lesson and Christmas souvenir for the guests are on the dinner table: take good care of your love (whoever!).
Christmas ornaments for window
Picture 27 - How to make Christmas decoration?
Hanging socks and the deconstructed balloon arch (which came back with everything this season!) Are the little darlings!
Picture 28 - Multipurpose items: in addition to warming up the morning with very warm coffee, the cups keep other secrets!
Picture 29 - The garlands are symbols of health and protection, besides the cycle of the year, by its circular format.
Image 30 - Stickers with Christmas motifs.
Picture 31 - Make it shine!
The interesting thing about the ornaments next to the windows is that they are visible on both sides of the glass. Enjoy!
Image 32 - Christmas decoration for windows.
Christmas decorations for rooms
Picture 33 - All together and mixed!
The Christmas décor usually takes all rooms, but a corner always deserves special attention! The living room is one of them, mainly because it is the meeting point of the house!
Image 34 - Flags work as reminders: the celebration can not stop!
Picture 35 - Christmas is that kind of event where everything is allowed, so do not be afraid to dare!
Image 36 - Avoid Worries on the Big Day: The Candles fake They're there for this!
Image 37 - The tired world rejoices!
Whenever you stop in front of the mirror, remember the inspirational phrase to keep going forward, with joy and hope!
Picture 38 - Christmas ornaments in glass jars.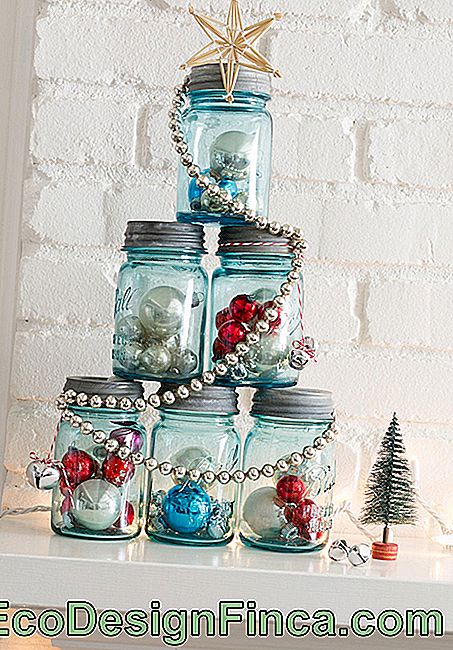 The classic Christmas tree tends to become a problem because it takes up space in the closet year-round, and one of the ways out to replace it is to invest in that sensational benchmark!
Picture 39 - Decorative ornaments for living room.
Spare effort to celebrate in style and ensure necessary comfort to the guests!
Image 40 - Commemorative words to not forget the countless gifts of the night!
Image 41 - Christmas ornaments on felt.
Image 42 - Christmas ornaments with glass bottles.
Christmas decorations for ceiling
Picture 43 - Colorful as life (and every Christmas) should be!
The predominance of
off white
remembers the blizzard - common in European countries, some of Asia and North America - but adding vibrant tones, is prepared a super fun Christmas, very tropical style!
Picture 44 - Explore other shades without leaving the traditional palette!
Image 45 - Christmas tree in felt.
It gives a bit of work to create this mobile, but enough strips of fabric,
nylon
and a dose of patience. If you play!
Image 46 - More Christmas decorating ideas!
Picture 47 - The aerial decoration is an excellent device to give that upgrade in any environment!
Image 48 - Hives and paper curtains: the variety of materials is so great, so explore, research and analyze what really compensates!
Picture 49 - More Christmas ornaments to rip off guests' compliments!
Christmas ornaments for doors
Image 50 - Different Christmas wreaths.
A focus of light on the discs and the reflective effect of the mirrors will be incredible!
Picture 51 - Ding-dong: Christmas ornaments for entrance doors.
Picture 52 - Beats the little bell...
A detail on the knob replaces the presence of the garland and makes a fantastic detail in the decoration!
Picture 53 - Cookie cutters make a distinctive Christmas wreath!
Image 54 - Signalize: Christmas ornaments for doors and windows.
Our website is also culture: Noel, in French, it means Christmas!
Picture 55 - Christmas ornament for door: when the perfume invades just after the entrance!
Picture 56 - Christmas is in the air (and even on the door handles!).
Christmas decorations for bedrooms
Image 57 - Let yourself be carried away by the Christmas spirit!
For the most enthusiastic: plaques, cushions, garlands, flasher, ties are always welcome, in any environment of the house!
Image 58 - Waiting for Santa Claus.
The famous hanging stockings appear again here, this time, on the head of the bed.
Image 59 - After all, is there any limit to arranging the decorative Christmas balls?
Image 60 - Live: it's the most wonderful time of the year!
An important holiday like Christmas extends to the unconventional decorations like in the bed clothes, for example.
Image 61 - Stars can be organized in different shapes and styles!
Picture 62 - Do not let go!
After all a detail, especially in an area with few colors and decorative objects, make all the difference!
Picture 63 - Pine trees everywhere.
If the room is the most important room in the house, why not make it the central place of your decoration?
Picture 64 - Christmas lights: bedroom decoration.
Image 65 - And finally, for everyone a great night!
Natural elements allied to the plaid pattern in shades of red give a touch
country
, interior or cottage. Enjoy!
How to Make Christmas Ornaments Step by Step
Discover now the step by step to make Christmas ornaments in 2 selected tutorials:
1. See practical ornaments to decorate your Christmas
2. Here's how to make a Santa Claus ornament
Video Editorial: 65+ Awesome DIY Christmas Ornaments Design Ideas 2018