Who likes functional items that still give that force in the decoration will fall in love with electric fireplace. Practical, versatile and modern, it is increasingly on the rise in many homes, precisely because it is simple to use, as opposed to conventional.
As it is still relatively new, many people have several doubts about what is electric fireplace, how it works and how to use step by step. Moreover, few know the benefits and the average price of this equipment. So, to get all the doubts, we prepared this complete post. Read our guide, become familiar with this option and see if it is interesting for your home.
Topics
1 Frequently Asked Questions

1.1 What is it? How it works?
1.2 Is it worth it? Warm Up Enough?
1.3 What are its main advantages?
1.4 How much does it cost? #price
1.5 What is your Consumption?

2 Electric Fireplace Photos and Models

2.1 Embed / Wall
2.2 Portable
It looks like something "artificial" but the electric fireplace is totally real and already stands out as one of the top models of fireplaces. For those who can not invest in a traditional type, this is a cool alternative that we find in several stores, perfect for the colder days.
Whether it's for country houses, farms, houses and even apartments, it's worth having this version to keep the environment warm in the winter. If it is your dream to have a fireplace, consider knowing everything about the electric fireplace taking away all doubts.
Frequently Asked Questions
Which is? How it works?
After all, what is and how does the electric fireplace work? Well, as its name implies, this model does not need firewood or gas to heat it, just plug it into the outlet. In fact, it is a type of heater that mimics a fireplace, with a virtual / artificial flame that creates an interesting look.
Formulated with glass - it can be portable or built-in to the wall - it also has a remote control to check the intensity of the heat it produces. There are several types, however most follow the square pattern, easy to load and fit anywhere.
You can see from the photos that, in addition to functional, the electric fireplace is still a perfect decorative ornament, especially in modern and industrial styles. Some types have 3D flame that look real in addition to voltage ranging from 110 to 220V.
Practical and comfortable, it's a perfect option to carry wherever you want, ideal for any space. The metallic look resembles a heater and the design gives a plus in the equipment.
Worth it? Warm Up Enough?
Exquisite and simple to use, the electric fireplace still prevents dirt and can be fitted into any niche - masonry, marble, plaster, among others. It is only necessary that there is a space for the air to circulate, since depending on the weather it can get quite hot.
That's right, according to experts this structure leaves the environment quite warm, especially in apartments and small spaces. You should think of it as a heater anyway, because the functionality is virtually the same - it may vary by model, power and advantage in some cases.
If it's worth it, it depends on your goals and your assessment of the features / advantages of the electric fireplace. It is a cool alternative for many, but can be easily discarded by others. Know the advantages in the next topic, they sure will help a lot in your analysis.
What are its main advantages?
No need to spend on manufacturing, installation and materials when opting for an electric fireplace. Just buy a model that catches your attention and use it in the place you find most convenient.
Unlike the other versions, the electric fireplace does not make dirt, as it dispenses firewood and you will not have to collect the ashes after use.
Did you know that this type converts 100% of light energy into heat? Well, that's why it leaves the environment warm and cozy.
It is possible to use the fireplace in any space. You can move it to different rooms, from living room to bedroom!
It is easy to handle, only with a remote control it is possible to turn it on and choose the ideal temperature, choosing the most suitable heat intensity for the environment.
In addition to practical, this fireplace is safe and avoids problems like burns. As an easily accessible device, you do not need to manipulate directly.
Silent, it does not produce any kind of noise. You can call and relax quietly - you want something better for those cold days?
The electric fireplace heats up and even gives a lift in the decor of your home. Functionality + beauty in a single option!
Are there disadvantages? Well, the main one is that it depends on the electric power to work. If you go to a place further away, it is best to rely on the same traditional model. Also, if it spoils you will have to buy another one or pay for the repair, which hardly happens with the other versions.
How much? #price
How much does an electric fireplace? What is the average price and where to buy it? Well, among the most popular models are the brand Cadence, which have two levels of heating in an area of ​​up to 25 m². The average price is 400 to 900 reais.
The fireplace Centaurea has high power in models of 127v and 220v. Some types are more expensive, around 2000 reais. The most popular ones cost around 1500 reais. Finally, there is the electric fireplace of the Etna. The heating area is up to 30 m² and the projection lights are a charm apart. The average price is 700 reais.
You can search and buy either directly from the manufacturer's store or at alternative locations: building materials and consumer electronics or e-commerces such as Free Market, Trapemix and Shoptime - whether portable or wall-mounted.
What is your Consumption?
With similar characteristics to a heater, the electric fireplace needs exclusive installation so as not to overheat the grid - which can lead to power failure. As usage will not be frequent, consumption is not as high as imagined, it works as an air-conditioner as well.
To get an idea, a device with power of 1440 W and connection via 110V spends 1.4 kW per hour of use. Depending on the features and model, that number varies more or less.
Think the economy will be guaranteed with the electric fireplace because you will not always use - more on even cold days -; you do not have to have wood, gas, which costs a lot. Experts indicate its use quietly, just choose a type of quality and that meets expectations.
Electric Fireplace Photos and Models
There are two models of electric fireplace, both are practical and versatile, ensuring all the advantages of this appliance!
Wall Mounting
THE built-in electric fireplace can be embedded in any niche or wall. It is a good choice for openings in moments and even where a traditional fireplace would be. There are various sizes and archetypes, basically in square format and with similar designs - interesting to enhance the decor.
This model fits the opening of shelves and other furniture, which avoids being thrown anywhere, saving space and adapting perfectly to the environment.
You can also produce a specific niche to fit the electric fireplace. To use, just access it with a remote control, without worrying about dirt and other adversities.
Here's a great alternative to a variety of styles, from the industrial to the rustic, from the contemporary to the minimalist. The neutral colors of the device combine with any decor and the 3D design gives a nice plus - it looks like real flames!
Portable
There is also the portable electric fireplace, the one that can be transported anywhere. It's lightweight and easy to carry, working just like a heater. Excellent option for apartments and places where it is not possible to install a wood or gas fireplace. Nice, is not it?
There are more traditional and other modern models with charming design and warmer colors, totally out of the ordinary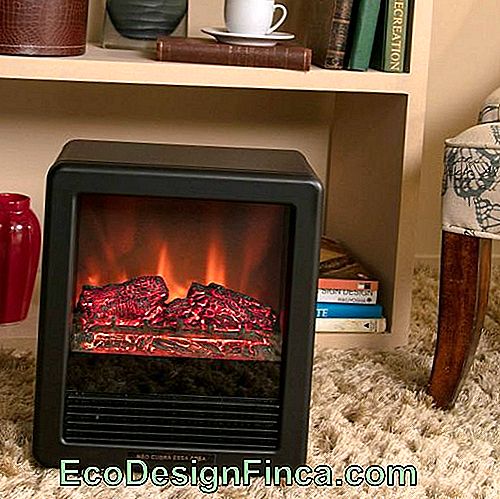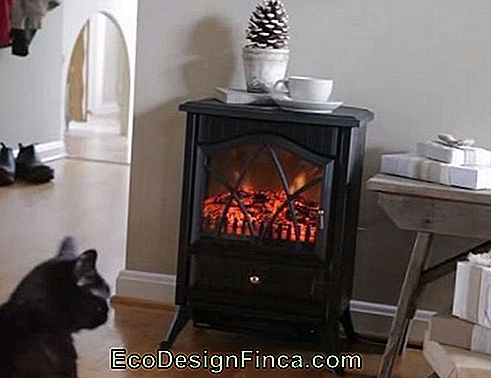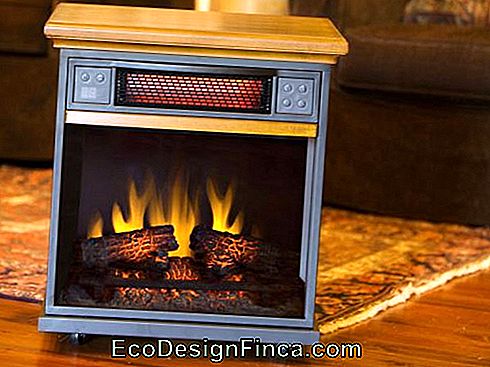 The design changes from one model to another, but follows the basic line of flames, firewood and charcoal, the most common in traditional fireplaces. Some impress with similarity!
---
We present all the details of electric fireplace and we want to know what you think about this equipment. Enjoyed it? Will you join? Tell your impressions to us and share this content with your friends. We hope you enjoyed it, see you next time!
Video Editorial: Wood, Gas, or Electric - Which fire place is right for me?