For those who love nature around the house, planting climbing flowers is a way to bring more life to the environment, besides being a beautiful option to improve the landscaping, with much beauty and exuberance. Many species grow quickly and soon take care of fences, walls and pergolas, leaving any space greener and with varied tones of beautiful and charming flowers. To know which are the most indicated, follow the post with tips and photos!
Topics
1 Tips for Climbing Flowers for Fences / Walls / Pergolados

1.1 Passionflower
1.2 Spring
1.3 Alamanda
1.4 Seven-leagues
1.5 Ipomeia
1.6 Star Jasmine
1.7 Jade
1.8 Jewel Booties
1.9 Love-grab
1.10 Honeysuckle
Climbing flowers need fixed structures to grow and spread, so any wall, fence or pergola is ideal in growing these plants. They create a garden without much care and concern for decoration, providing natural landscaping with a light and original touch, without major investments.
In addition, green is great for breaking concrete building standards and materials that leave gray-faced real estate, even more in urban concepts, bringing nature and improving the quality of life of residents in any area, especially in large houses cities.
Nowadays, many buildings and companies have also been attacking this trend and investing in climbing flowers on the facades, since they develop fast and, depending on the species, no frequent maintenance (like pruning) is necessary.
Another advantage of climbing flowers is that many types adapt easily to any region, even more in the cool and warm climate we have here. When they bloom (others even fructify) they bring a softness, fragrance and lightness that help anyone to relax and think about good things, after all, who does not like to have some nature in their corner, does not it?
---
What you need to know before planting climbing flowers:
Some species grow fast, others grow slowly. Each one has its unique characteristics and characteristics, so it is essential to inform before planting;
Care needs to be frequent, with fertilization, irrigation and pruning;
Mount the ideal space, with all the structure necessary for the climbing flowers to spread. In many cases, a screen, trellis or support is needed to help the plant climb up the wall or pergola;
If you find it necessary, hire a landscaper to know how to do the planting and pruning so that it favors the space, leaving more beautiful;
You can buy the seedlings in specialized stores at a good price and plant easily. All you have to do is prepare the soil well and be careful to maintain it so that it grows healthy;
Take all your questions with a responsible before buying any kind. Always avoid thorny, toxic types or those that grow so much that they end up making pests;
Be aware that flowers and fruits attract animals, especially birds. So be receptive to pets, which can make a lot of noise.
---
Now that you've cleared your doubts, know which are the best climbing flowers to plant near fences, walls and pergolas. The good news is that there are several species, one more beautiful than the other. We've selected some cool options to inspire you!
Climbing Fence / Wall / Pergola Flower Tips
Passion fruit
Many people think that passion fruit streaks, but this fruit is a creep that spreads easily only with the help of a galvanized steel frame and canvas or bamboo. The passionflower blossom is a distinct attraction, purple or pink, very different and striking, with an incredible perfume. All it takes is lots of manure and sun to grow healthy. It is also important to know that, over time, the appearance is impaired and replanting is necessary.
Spring
Spring is one of the most classic and traditional climbing flowers, with its reddish and abundant tone. It always flowers at the end of the year and withstands the cold, requiring only frequent maintenance, such as pruning, fertilization, water and sun. Common in farms and rural areas, ideal for pergolas.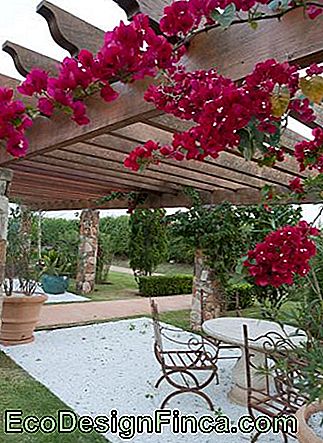 Alamanda
Yellow Alamanda is another well-known vine that blooms year-round, with ornamental foliage and with great adaptation to the heat. It only requires a fertile soil and a strong structure, like pergolas or fixed walls. The fences, however, can not be fragile, for they must shelter all the branches that easily spread.
Seven-leagues
Surely you must have seen this species, which gives a charming pink flower, with attractive scent and rustic touch. Seven-leagues grows very fast and looks great on varied fences, ideal for mild climates. As it spreads immediately, it is necessary to be attentive to frequent pruning so that it does not invade other spaces.
Ipomeia
Ipomeia is recommended for grids, screens and fences, with flowering in both spring and fall. An option for those who like low-maintenance climbing flowers. It only likes fertile soils and with lots of organic matter, in addition to water constantly.
Star Jasmine
Of the most common climbing flower species, star jasmine covers walls and fences efficiently, with dark leaves and a soft white of delicate flowers. Loves sun and well-tended soils, just needs a support so that it can grow and spread through the structure. It adapts to all climates, attracts birds and exudes a strong perfume, contraindicated for people with allergies.
Like jasmine-star, the jasmine of the poets is also an interesting alternative for fences and porticos, with its white tone and great fragrance.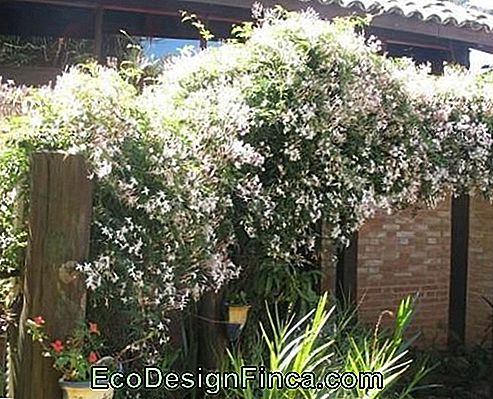 Jade
Jade is extremely beautiful, with abundant foliage and that takes this creeper to reach extremely high places. The color of the leaves is green, with flowers in red and intense orange. In addition, it still offers plenty of shade, ideal for backyards and small gardens. It enjoys sun but does not withstand intense cold, being a good option for hot and humid places.
Jewel Booties
The jeweled shoe has this name just for remembering this accessory. It is ornamental, with green leaves and yellow and brown flowers, an alternative for pergolas and porches. Likes half shade and well-tended soils, plus plenty of water to bloom for longer.
Love-grab
This peculiar name plant grows on any support and gives a romantic tone to the environment with its pink or white flowers. Great for creating live fences, since you like lots of sun and soil with lots of fertilizer (so it will have a constant flowering in all seasons of the year).
Honeysuckle
The honeysuckle is indicated for small walls, with delicate touch and perfume that attracts many birds, mainly hummingbirds. Perennial plant that grows very easily, even more if you receive frequent care. It has dark and dense foliage, besides loving the sun and warm weather.
---
He's a more handsome model than the other who even gives up planting in the backyard, does not he? Well, if you have the space and structure for it, go ahead! If not, choose the one that most has to do with the environment and your personal taste. The garden and the facade will be incredible with these climbing flowers! Plant and count the result for us!
If you have any questions, leave a comment in the post. Good luck and see you next time! (I.e.
Video Editorial: ❤️ Amazing and Most Beautiful Climbing Rose Flowers