Provencal mirror to decorate the environment: how about betting on this trend? This model is ideal for those who love the classic and bold style, as an alternative to different spaces and areas of the house, company, commerce... They are many types, with diverse frames and even the option to make it yourself. Incredible, is not it? To know everything, follow the article and renew it at once!
Topics
1 Provençal x Veneziano: What's the difference?
2 Types of Provençal Mirror

2.1 Resin
2.2 From MDF
2.3 Of plaster
2.4 In biscuit
2.5 In EVA

3 Models of Provençal and Victorian Frames and Frames

3.1 Great
3.2 Oval
3.3 Colorful
3.4 Gold and Bronze
3.5 Princess
3.6 Table

4 How to Make Provencal Frame Step by Step - DIY
Before you start talking about the mirror, it is essential to make clear what the Provencal style, the term that gives name to that object that, surely, his relatives and older friends must already know.
Provence is a region of southern France that has inspired many professionals for some time because of its classic features that have reached the branch of decoration. The lavender fields of this area give a peculiar touch to the landscaping of houses with rustic and naturalistic style, so much that it has been recognized as Provencal worldwide.
Provencal decoration
Among the greatest attributes of the Provencal style are the luxurious furniture close to French royalty, but developed with more economical and popular materials, made by artisans of the region. Usually, they use a mixture of gypsum with glue or lower woods, but with the same traditional mold. With the aging, it creates a differentiated effect that gives an elegant touch and ideal for the decoration.
In other words, the Provençal style is part of an artisan line, inspired by the luxury of the houses of French aristocrats of the past centuries, with well-defined frames and furniture with classic design, twisted and with many rustic details. In the case of the mirror, it has small or large details, some following a baroque and religious line.
Provençal x Veneziano: What's the difference?
Many people get confused when it comes to Provencal and Venetian, thinking that both are the same thing. Well, there are differences that already start especially in the name. While Provence is a French region, Venice is the well-known Italian city. The craft line, however, is the same.
What many experts report is that the Venetian style, in the case of mirrors, follows a more daring pattern, well geared towards the classic, while the Provencal allows more varied geometry. That does not mean it's a rule. The distinctions are small and so leads to doubt. To know which is which, take a look at the photos:
Provencal mirror
Venetian mirror
The Venetian mirror style follows a more elegant and modern line, while the Provençal mirror is the face of a more rustic and naturalistic decoration.
Types of Provençal Mirror
Following this line of inspiration in super luxurious models, there are several types of Provençal mirror that use varied materials, from wood to EVA and cardboard.
Resin
Highlighting this tone of common nature of the original area, models of Provençal resin mirror are the darlings of many people since ancient times, still with bold and totally classic frames, ideas for rooms (in addition to more rudimentary furniture) or bathrooms, especially in sober colors such as brown or beige - although more contemporary models allow for lighter shades!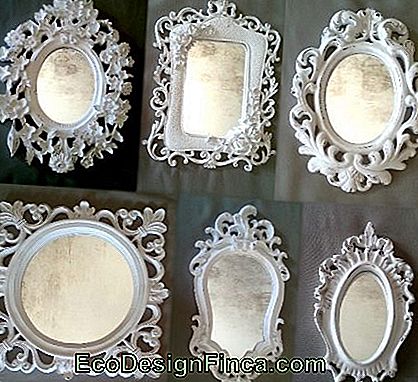 From MDF
The Provençal MDF mirror gives the traditional touch of this structure that looks better with time and aging. Usually, they follow the line in colors ranging from the cleanest, usually the white, to those browns full of details. The frames give a romantic and delicate tone to the environment on many projects. It is great combined from flowery prints to more robust furniture.
Of plaster
Gypsum + glue guarantees a technique known asplastid, very popular in the Provençal region. This is an extremely versatile material and the most used in the making of these mirrors, even more because it is economical and available in several stores. One only needs to be attentive to the fragility, because it is not so resistant compared to other materials.
In biscuit
What about the Provençal mirror in biscuit? Porcelain is an ideal material for making the most diverse objects, both for being easy to work and for price and versatile formats. In a frame of this type of mirror, one can see many peculiar possibilities. But just like plaster, you have to be careful with the low resistance of the biscuit.
In EVA
As a first test DIY (do it yourself), an alternative is to make the Provencal mirror in EVA. This rubberized material is easy to handle and allows for lots of ideas. It is not for nothing that the craftsmen always see this type as a key piece in the manufacture of a series of ornaments. For those who like cheap options, it's a great idea!
Provençal and Victorian Mirror Frames and Frames
The versatility in the frame of the Provençal mirror draws attention, especially when it joins the classic to the modern. From large to tabletop models, there are good inspirations ideal for the whole house decor! It is worth checking!
Great
Large Provençal mirror model gives that touch of ostentation to the environment, typical of the old French aristocracy, who saw these articles as a way to show all the luxury of their houses / castles. Surely you must have seen this type in movies and old productions.
Oval
In the most common formats of this mirror, the oval is the most popular, the face of Provence. Although it has disputed space with the square, it is still the one that draws attention of the people.
Colorful
A more funky and youthful alternative, the Provençal colored mirror is a modern concept, with this idea of ​​breaking the standards of the classic and transforming traditional objects into contemporaries. It is a very interesting medium and pleases many people!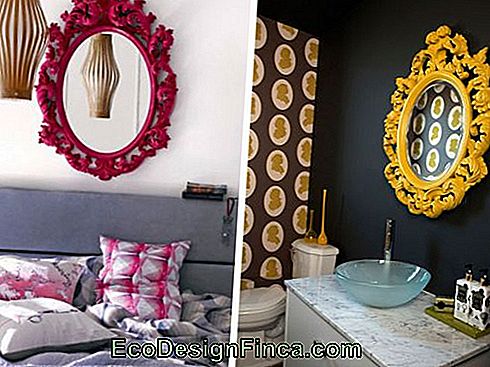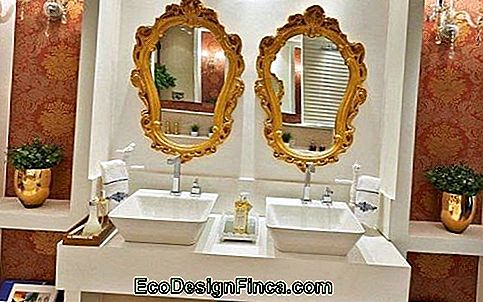 Gold and Bronze
No matter the manufacturing material, as long as you have a Provençal golden mirror and bronze, the environment becomes more elegant, attractive and with the "face of wealth." It is worth betting on these colors if you want to highlight the space, be it room, bedroom or bathroom.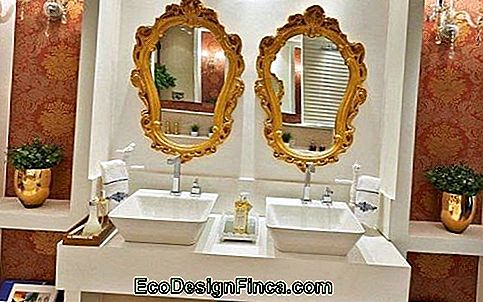 Try to balance with other items in the space, so that the decoration is balanced and harmonious, with a light and beautiful touch.
Princess
In princess stories, the Provencal mirror is always in vogue. An essential model for bedrooms and dressing rooms, following a totally classic line that many women love. The frame can follow both a traditional design and a stripped-down and detailed form.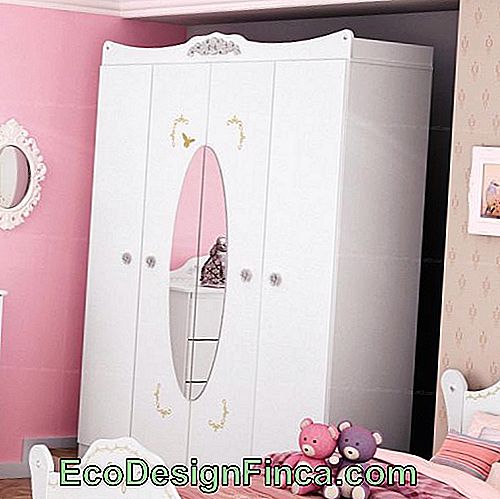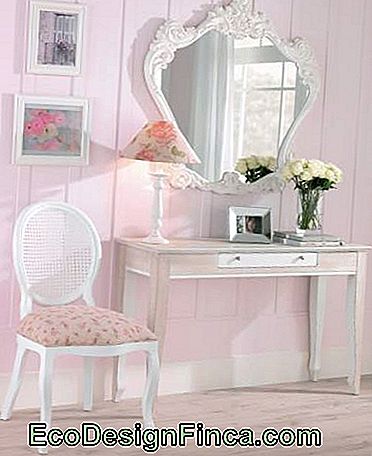 Of table
The Provencal mirror is also an interesting alternative to tables. They usually follow that small, compact pattern that is not fixed, ensuring versatility and use for make-up and beauty processes (the ones everyone does and always needs a mirror).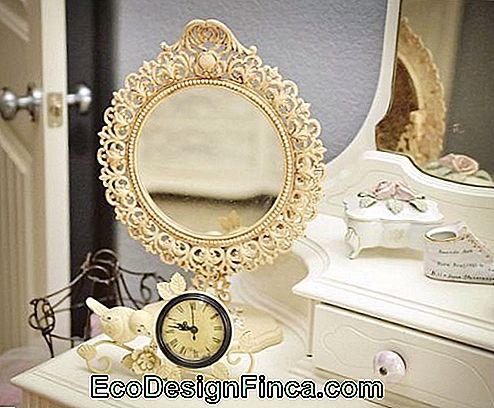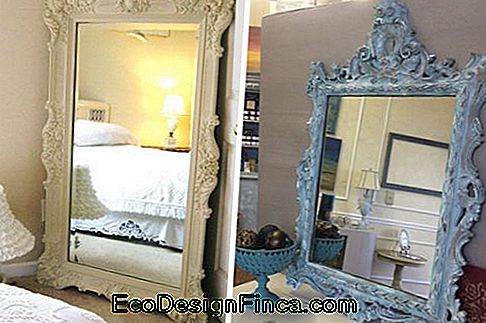 How to Make Provencal Frame Step by Step - DIY
The Provencal frame can be made at home without problems. As we have shown, there is a diversity of materials indicated for this, just choose the ideal type and stand out in the environment. It takes a little technique and a little training until you get a good result, but over time you achieve perfection and can make your own mold without problems!
---
For those who love classic style and want to give an innovative touch to any space in the house, the provencal mirror is a practical and versatile accessory that can be made in several ways. It pays to test and change! Then tell us the result!
If you have any questions, suggestions or criticism, leave a comment in the post. Good luck and see you next time! (I.e.
Video Editorial: How To Use A Laser Cutter - Lightblade Learning Lab 36 Let's Make a Rotary Engraving Fixture